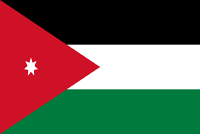 Pakistan Rice Exporters
Pakistan Long Grain IRRI-6 Rice Exporters for Aqaba, Jordan.
---
Importation of rice and its derivatives has been liberalized now in Jordan. The private sector may import these items into Jordan if prevailing customs duties and taxes are paid, and the product meets local quality standards, which are set by JISM. Government of Jordan has given relief for rice from customs duties and taxes to ease the economic hardship on consumers. Rice imports are forecast to remain stable. Over 97 percent of domestic food and feed requirements are satisfied by imports. Cereal import requirements in 2012/13 were 2.19 million tonnes.
Premium quality rice in bulk quantities can be easily imported to Jordan from Pakistan as there are all latest laboratories available in Pakistan to test rice for any standards applicable in the world at present. Pakistan exports almost 4 million tons of rice to different parts of the world and is the 4th largest exporters in the world.
Pakistan White and parboiled rice is very popular due to its excellent quality & taste in Jordan. Our company, HAS Rice Pakistan specializes in exports of Pakistan long grain parboiled rice to Jordan.
HAS Rice Pakistan is a leading Pakistan rice exporter to Aqaba, Jordan amongst other nations. We are known for excellent quality white rice, competitive pricing, enormous rice processing and milling capacity and state-of-the-art infrastructure - enabling us to deliver value for money for our esteemed customers time and time again.
Jordan mostly consumes the following grades of Pakistan Long Grain Rice: