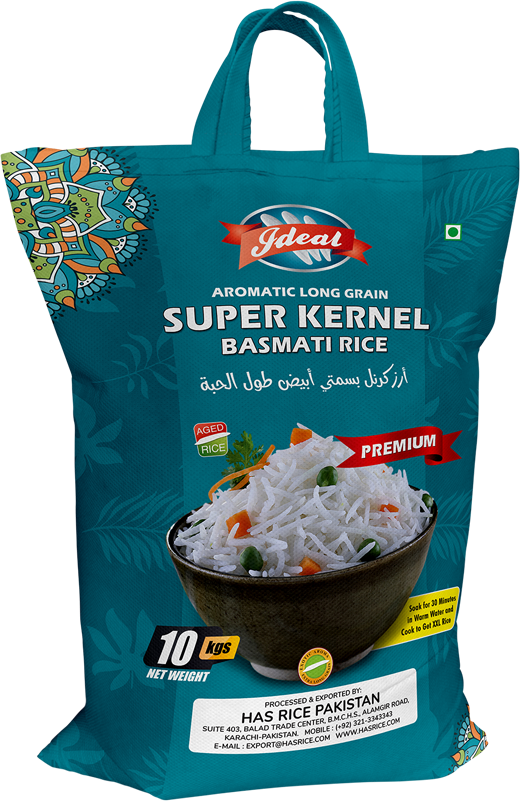 Super Kernel Basmati Rice Exporters
Pakistani Basmati Rice, Premium Super Kernel Basmati Rice
One of nature's finest products draws its unique aroma and taste from the special soil & climate conditions found only in the mighty, misty mountain ranges called the HIMALAYAS. This is where the story of each bag of IDEAL Super Basmati begins. Trained professionals observe cultivation suggesting quality protection techniques. Then company experts move in the big markets where they select only the finest grains of Super Basmati available, making sure that each grain when cooked elongates 3 times of its uncooked size, therefore giving you 100% pure quality Super Basmati Rice with an exquisite delicate texture, flavor and aroma for which IDEAL Basmati Rice Exporters is famous through out the world.
Available in Private Label as per customer's requirements. Learn more...
Specification of Super Kernel Basmati Rice
---
7.0 - 7.2mm
Average Grain Length
---
Crop Year
2020/2021
Polishing Grade
Silky Polished & Color Sortexed
Damaged, Shriveled & Yellow
1.0% Max.
Chalky Grains
3% Max.
Contrasting Varieties
7.0% Max.
Foreign Grains
0.1% Max.
Foreign Matter
0.1% Max.
Paddy Grain
0.2% Max.
Under-milled & Red-striped
2.0% Max.
Milling Grades Available
Brown Super Basmati Rice
White Super Basmati Rice
Sella Super Basmati Rice
Request for a Prompt Quotation
If you are a rice importer/buyer, we encourage you to contact us and discuss with us your requirements. We would be glad to offer you a price quotation and see how we can satisfy your needs and work in collaboration with your esteemed organization.