PK385/D98 Basmati Rice Exporters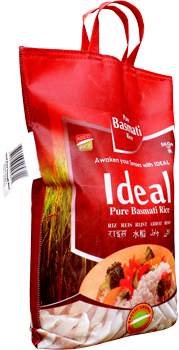 Pakistani Basmati Rice, PK-385/D98 Basmati Rice.
Basmati rice means the "queen of fragrance or the perfumed one." This type of rice has been grown in the foothills of the Himalayas for thousands of years. Its perfumy, nut-like flavor and aroma can be attributed to the fact that the grain is aged to decrease its moisture content. Basmati, long-grained rice with a fine texture is the costliest rice in the world and has been favored by emperors and praised by poets for hundreds of years.
Pakistan 385 Basmati Rice is also known as D98 Basmati Rice.
Specification
NATURE
SPECIFICATION
Moisture Content
13.0% Max.
Average Grain Length
6.8 MM
Polishing Grade
Double Silky Polished & Color Shortexed.
Damaged, Shriveled & Yellow
1.5% Max.
Broken Grains
2% Max.
Chalky Grains
3.0% Max.
Contrasting Varieties
7.0% Max.
Foreign Grains
0.2% Max.
Foreign Matter
0.1% Max.
Paddy Grain
0.2% Max.
Under-milled & Red-striped
2.0% Max.
Milling Grades Available
Brown 385/D98 Basmati Rice
White 385/D98 Basmati Rice
Sella 385/D98 Basmati Rice
Shape of Grain
REQUEST FOR QUOTATION
If you are a rice importer/buyer, we encourage you to contact us and discuss with us your requirements. We would be glad to offer you a price quotation and see how we can satisfy your needs and work in collaboration with your esteemed organization.
REQUEST FOR A PROMPT QUOTATION
RELATED PAGES
Other rice varieties you might be interested in: