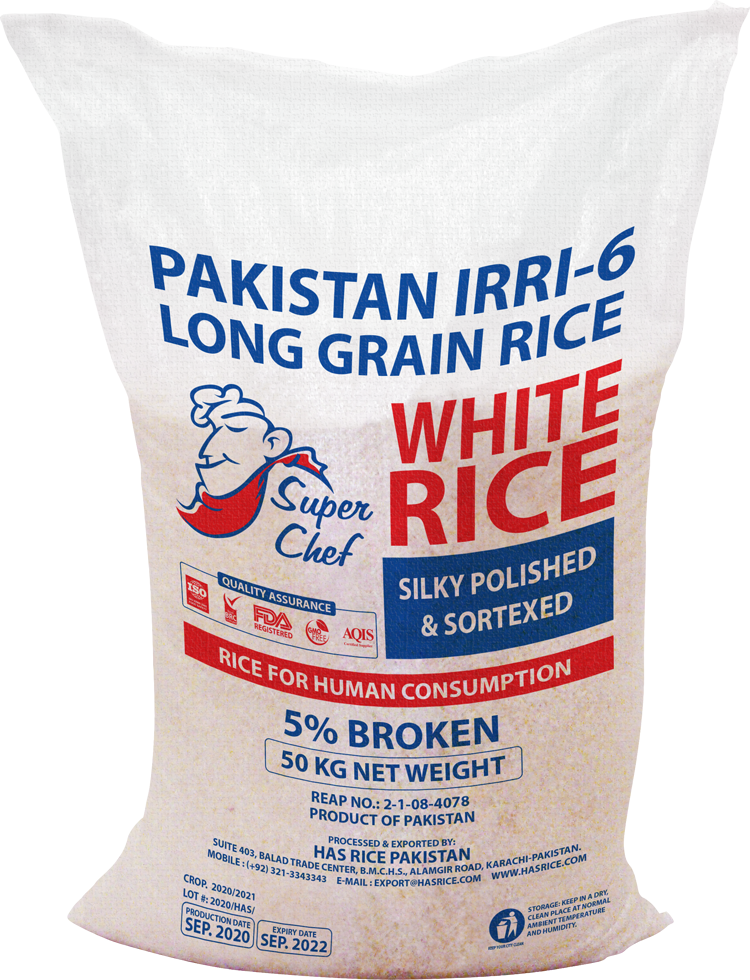 Pakistan IRRI6 Rice, 5% Broken Rice Exporters
Pakistan Long Grain IRRI6 White Rice, 5% Broken
IRRI6 is a type of long grain non-basmati rice produced in Sindh province of Pakistan, which is very popular in the African, Eastern European and Gulf markets.
IRRI6 rice exports comprise more than half of Pakistan rice exports in terms of quantity. IRRI6 rice exports are mostly destined to African countries, where it is a delight for rice consumers. IRRI6 rice has better cooking results as compared to white rice exported from other Asian countries. Therefore, IRRI6 rice exports from Pakistan is growing every year due to increasing popularity and acceptance of premium quality cooking results.
We are leading IRRI6 rice suppliers and IRRI6 rice millers based in Sindh, Pakistan. Our IRRI6 rice mills being located in the rice growing areas such as Jacobabad and Tando Mohamed Khan enables us to offer highly competitive prices of IRRI6 rice in large quantity with consistent quality.
We offer mandatory Third Party Inspection (preferably SGS or Bureau Veritas) with each IRRI6 rice shipment to ensure strict compliance of quality, quantity and quantity. Such third party reassurance is a basic requirement from buyers, thus reassuring the buyers that rice shipment quality corresponds with the buyer's order.
Specification of Pakistan 5% Broken White Rice
---
5.0%
Broken Grains
(Below 3/4 of grain length)
6.0mm
Average Grain Length


---
Crop Year
2020/2021
Polishing Grade
Silky Polished & Color Sortexed
Damaged, Shriveled & Yellow
1.5% Max.
Chalky Grains
4.0% Max.
Foreign Grains
0.5% Max.
Foreign Matter
0.5% Max.
Paddy Grain
0.2% Max.
Under-milled & Red-striped
1.5% Max.
Milling Grades Available
Brown IRRI6 Rice
White IRRI6 Rice
Sella IRRI6 Rice
Request for a Prompt Quotation
If you are a rice importer/buyer, we encourage you to contact us and discuss with us your requirements. We would be glad to offer you a price quotation and see how we can satisfy your needs and work in collaboration with your esteemed organization.