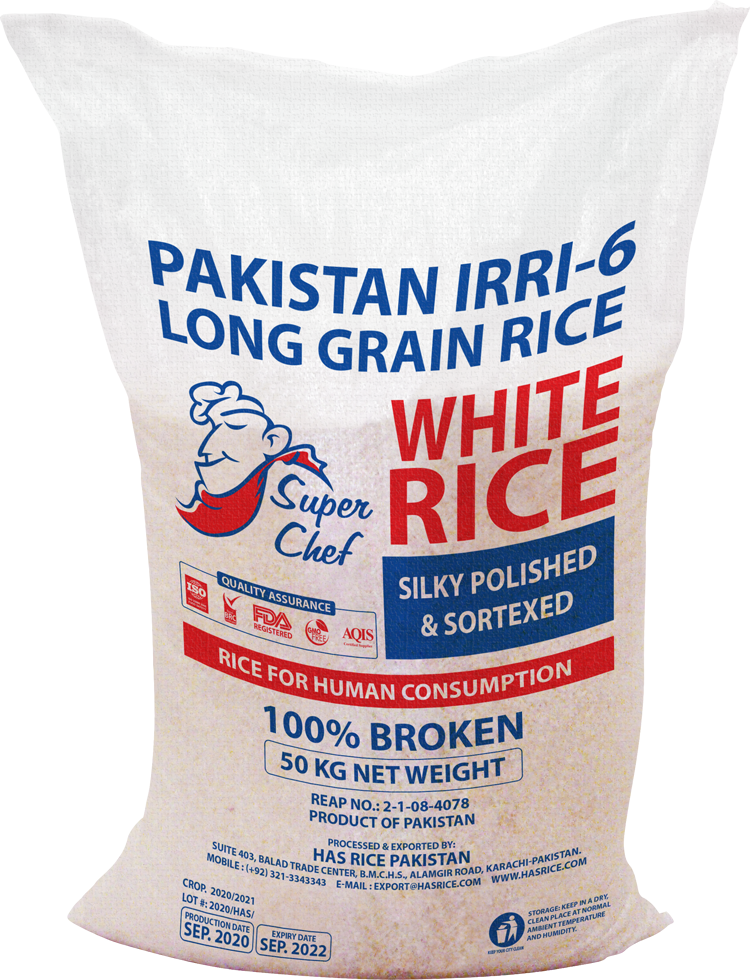 Pakistan 100% Broken White Rice Exporters
Pakistan Long Grain IRRI6 White Rice, 100% Broken
100% Broken Rice is used in beer making, rice flour and widely consumed in some West African Nations as staple food, in Far-East for making vermicelli/noodles and in Europe for beer production.
We actively export Pakistan 100% Broken White Rice to our customers in West African countries to be used as staple food. Due to bigger grain size as compared to other origins, Pakistan broken rice is more preferred by consumers worldwide.
During the rice milling process, the white rice grains which are below the size of 4.5mm are separated by length graders & classed as broken rice. Pakistan 100% Broken white rice is used by food industry for making many baby foods, sweet dishes and a major ingredient of cereals.
We are Broken Rice suppliers from Pakistan, with regular availability of premium quality double silky polished & color sortexed non-basmati broken rice for export. Our customers include major food importers based in West Africa, cereal & food manufacturers in Europe & Far-East.
Specification of 100% Broken White Rice from Pakistan
---
6.0mm
Average Grain Length
---
Crop Year
2020/2021
Polishing Grade
Silky Polished & Color Sortexed
Damaged, Shriveled & Yellow
5.0% Max.
Chalky Grains
20.0% Max.
Foreign Grains
4.0% Max.
Foreign Matter
2.0% Max.
Paddy Grain
0.2% Max.
Under-milled & Red-striped
Max. 20 pieces per kilogram.
Milling Grades Available
White IRRI6 Rice
Sella IRRI6 Rice
Packaging:
We export Pakistan 100% Broken White Rice in 20 kgs, 25kgs & 50 kgs packing. Private labelling is available subject to MOQ of 5x20ft Containers (approximately 130-135 Metric Tons).
Request for a Prompt Quotation
If you are a rice importer/buyer, we encourage you to contact us and discuss with us your requirements. We would be glad to offer you a price quotation and see how we can satisfy your needs and work in collaboration with your esteemed organization.