Pakistani Basmati Rice Exporters
HAS Rice Pakistan is a major producer and exporter of pure basmati rice to more than 54 countries. We export only purest & finest quality of basmati which makes for a delightful feast every time. We export white basmati rice and parboiled sella basmati rice from Pakistan of the following basmati rice varieties: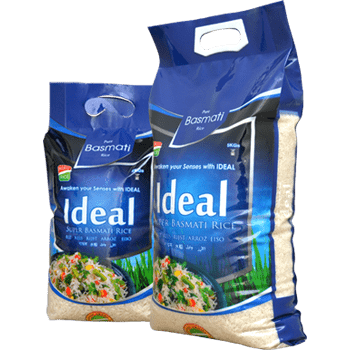 Super Kernel Basmati rice is mostly cultivated in Punjab province of Pakistan. Basmati rice exports comprise more than half of Pakistan rice exports to Middle East in terms of quantity. As leading basmati rice exporters, our exports are mostly destined to Middle East / Gulf countries, where it is a delight for rice consumers. Pakistani basmati rice has far better cooking results as compared to basmati rice from other origins. Therefore, basmati rice exports from Pakistan are growing every year due to increasing popularity and acceptance of premium quality cooking results.
We are leading basmati rice suppliers and basmati rice mills based in Karachi, Pakistan. Our basmati rice fields are located in the rice growing areas such as Hafizabad, Narowal, Mandi Bahuddin and Kamoki (districts in Punjab province) enabling us to offer highly competitive prices of basmati rice in large quantity with consistent quality.
Specification of Basmati Rice
NATURE
SPECIFICATION
Moisture Content
13.0% Max.
Average Grain Length
Min. 6.8 millimeters up to 8.2 millimeters
Polishing Grade
Double Silky Polished
Damaged, Shriveled & Yellow
1.0% Max.
Broken Grains
2% Max.
Chalky Grains
3% Max.
Contrasting Varieties
7.0% Max.
Foreign Grains
0.1% Max.
Foreign Matter
0.1% Max.
Paddy Grain
0.2% Max.
Under-milled & Red-striped
2.0% Max.
Milling Grades Available
White Super Basmati Rice
Sella Super Basmati Rice
Request for a Prompt Quotation
If you are a rice importer/buyer, we encourage you to contact us and discuss with us your requirements. We would be glad to offer you a price quotation and see how we can satisfy your needs and work in collaboration with your esteemed organization.
REQUEST QUOTATION