Serving Customers Across
48
Countries Worldwide
---
since established in 1962.
---
Daily Production
800
Metric Tons
---
Welcome to HAS Rice Pakistan!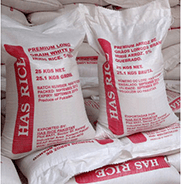 T
he vision of HAS Rice Mills, as a leading rice exporter from Pakistan, is to become a global rice company which seeks to take lead in providing the finest and high quality of Pakistan rice to its customers worldwide.
For centuries, the quality and purity of the Pakistan rice exports has been questionable. At our rice mills in Karachi, Pre-shipment Inspection (PSI) is performed by SGS on each rice export order processed at our rice mills. This is to ensure compliance of quality, quantity & weight as per buyer's requirements. SGS certifies the quality of the rice shipment, thus re-assuring the buyer that the quality of rice shipped is in compliance with the buyer's order."
Learn About Our Company
What Our Customers Are Saying!
Benjamin Kwulua
Food Importer
---
Amazing company! Been a customer since 2006, always surpassed my expectation when it comes to quality & consistent deliveries.
Joe Bishop Akuka
Govt. Agency
---
The only rice export company I trust in Pakistan! They do things right the first time. Their prices are most competitive, quality unmatched and services beyond par.

Check out our eProfile
Get to know about us, our beliefs, our experience, how we operate, our markets, our affiliations, quality guarantee, what we can offer and how we can grow together.

Download eProfile

Manufacturers & Exporters of Himalayan Rock Salt Lamps, Tiles, Slabs & Granulated Himalayan Rock Salt. Also exporting De-icing salt & Industrial salt from Pakistan.

Visit Company's Website