100% Broken Rice Exporters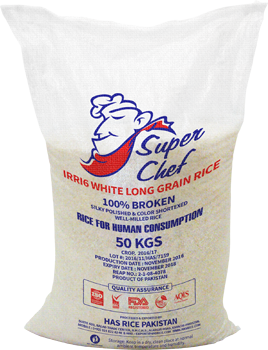 Pakistan Long Grain IRRI6 White Rice, 100% Broken.
100% Broken Rice is used in beer making, rice flour and widely consumed in some West African Nations as staple food, in Far-East for making vermicelli/noodles and in Europe for beer production.
Specification
NATURE
SPECIFICATION
Moisture Content
14.0% Max.
Average Grain Length
Below 4.5 MM
Polishing Grade
Double Silky Polished.
Damaged, Shriveled & Yellow
5.0% Max.
Broken Grains
100% Broken
Chalky Grains
20.0% Max.
Foreign Grains
4.0% Max.
Foreign Matter
2.0% Max.
Paddy Grain
Max. 20 pieces per kilogram.
Under-milled & Red-striped
4.0% Max.
Milling Grades Available
White IRRI6 Rice
Sella IRRI6 Rice
Shape of Grain
REQUEST FOR QUOTATION
If you are a rice importer/buyer, we encourage you to contact us and discuss with us your requirements. We would be glad to offer you a price quotation and see how we can satisfy your needs and work in collaboration with your esteemed organization.
REQUEST FOR A PROMPT QUOTATION
RELATED PAGES
Other rice varieties you might be interested in: